Facing the High Costs of Youth and Travel Sports
For many kids, competing on a sports team is one of their favorite things. They get to move around, learn new skills, build on their talents, and make new friends, all while playing a game they love. You like having an athlete too because they're learning valuable life-lessons like time-management and teamwork. All of these positives come at a cost to you, though, and it can be a big hurdle to cross.
Whether your kids are playing for their school or on a travel sports team, you will be faced with costs. School teams need funding to buy new uniforms, upgrade equipment, and maintain facilities, while travel sports teams have larger participation fees, travel expenses, and training costs. As of 2013, parents spend $671 per year to pay for everything from uniforms to registration fees to lessons and coaching. On top of that, at least 1 in 5 parents spends over $1,000 per year per child.
How do you combat these high costs and still give your child the opportunity to compete in the sport she loves? Some sports teams turn to product fundraisers, like selling cookie dough, coupon books, pizza kits, and candles. But if you know anything about youth and travel sports it's that they are demanding of both you and your athlete's time. It's hard to shuttle kids from school to practice to individual training sessions, not to mention traveling for games or tournaments over the weekend. You don't have the time to go door-to-door selling items to try to raise money.
Wouldn't it be great if everyone on your team could be raising money every single day on their own schedule? Prepare to cheer, because scrip fundraising makes this a possibility.
---
What is Scrip Fundraising?
Scrip is fundraising while you shop. Here's how it works: a family will buy a scrip gift card through your team's scrip program. They'll pay the full face value, but they'll earn an immediate rebate percentage that's typically between 3% and 15% depending on the retailer. Then they use that gift card on their normal purchases. For example, if your child's soccer team has a tournament two states away, use scrip to pay for your hotel room at Hyatt and earn 10%! You're not spending extra money, and there's no selling involved— you're just earning for your team on all your expenses! Click here to view expenses for sports teams Scrip Fundraising can cover!
Benefits of Scrip Fundraising
No extra time, money, or energy spent.

No selling unwanted products to your family and friends.

Earnings add up quickly— families can

earn $1,000 or more per year.

It's a great budgeting tool, and it fits with every financial situation.

We offer over 750 retailers, so you can use scrip for practically anything.

Online ordering lets families receive scrip even when they're on the road.

The funds you earn are immediately accessible.

It's habit forming— you'll want to use scrip all year long.
Another great thing about scrip? Unlike other fundraisers where all of the earnings go toward a general fund scrip lets you share earnings with families. That way, families can decide whether to put their money toward uniform costs, training sessions and lessons, tournament fees, or any other expenses.
Sports Team Fundraising Success Story
In over 20 years of business, we've helped more than 5,000 sports teams raise money with scrip fundraising. Teams ranging from gymnastics and synchronized swimming to soccer, baseball, and even equestrian have trusted scrip to generate funds, and they've been incredibly successful.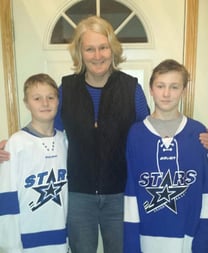 Anne R., from Hudsonville, Michigan, has been raising money for her sons' hockey team, and she raised $1,000 in just one year! Anne mentioned why she prefers scrip to other fundraising ideas saying, "You are not asking others to purchase anything. You are simply earning money back on your purchases." She doesn't participate entirely by herself, though. "Every week, my 13-year-old actually goes into my account and reloads my Meijer and Speedway cards," Anne said. "It's helping to pay for his hockey so he is responsible for reloading the cards."
Want to Start Your Program?
You've now learned about scrip as a great fundraising idea for your team. You understand the benefits of scrip, and you've seen how successful another sports team has been. Here's more good news: you can start raising money almost immediately. All you have to do is enroll your team, invite families to join your program, and place your first order. Your team will earn rebates, and your families shop with scrip!
After placing your first few orders, you'll be able to tailor your scrip program to fit your team's needs. You'll figure out how to set the order schedule to benefit families, and you'll have a better idea of whether to offer online ordering to families or not. The important thing to keep in mind is that there's no quota you have to meet and no set timeframe. Scrip is fundraising on your own clock.