A Fundraising Idea for Parochial School Tuition Assistance
For many families, an education rooted in strong traditions with a focus on religious principles is highly valued. The only challenge is affordability. According to the National Catholic Educational Association, the average elementary parochial school tuition cost is $3,880 while the cost climbs up in the secondary level to $9,622.
In order to tackle these high tuition costs, schools run fundraisers. These can be calorie-ladenbake sales, or selling cookie dough and candy. Going door-to-door with magazines, wrapping paper, and candles. Pledging and attending a walk-a-thon or auction. All these fundraisers have one thing in common: they give you fundraising fatigue.
You're busy enough as it is, and you really don't have time for all of those fundraisers. But the tuition price tag keeps staring you in the face.
How about running a fundraiser that fits with your lifestyle instead of fights with it? You could be raising money every single day, and reducing tuition costs, just by using scrip.
---
What is Scrip Fundraising?
Scrip is fundraising while you shop. Here's how it works: a family will buy a scrip gift card through your school's scrip program. They'll pay the full face value, but they'll earn an immediate rebate percentage that's typically between 3% and 15% depending on the retailer. Then they use that gift card on their normal purchases. You're not spending extra money, and there's no selling involved— it's just earning!
Benefits of Scrip Fundraising
No extra time, money, or energy spent.

No selling unwanted products to your family and friends.

Earnings add up quickly— families can

earn $1,000 or more per year

.

It's a great budgeting tool, and it fits with every financial situation.

We offer over 750 retailers, so you can use scrip for practically anything.

Online ordering lets families buy and use eCards whenever they want.

The funds you earn are immediately accessible.

It's habit forming— you'll want to use scrip all year long.
The best part about scrip? Unlike other fundraisers where all of the earnings go toward a general fund, scrip lets you share earnings with families since they are earning rebates on their purchases. That way, your school decides whether families can put money toward tuition reduction, school uniforms, field trips, or any other expenses.
Parochial School Success Story
In over 20 years of business, we've helped more than 8,500 parochial schools raise money with scrip fundraising. Our parochial schools know how powerful scrip can be.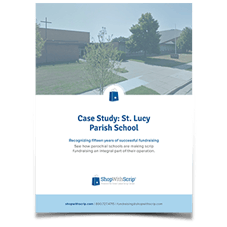 Take St. Lucy's Parish for example. They turned to scrip in 2000 to help raise money and they never looked back. Now they run their program all year long, and in 2013-2014, they raised $44,000! Look at this case study to learn more about St. Lucy's.

Want to Start Your Program?
You've now learned about scrip as a great fundraising idea that will help you reduce tuition. You understand the benefits of scrip, and you've seen how successful other parochial schools have been. Here's more good news: you can start raising money almost immediately. All you have to do is enroll your parochial school, invite families to join your program, and place your first order. Your school will earn rebates, and your families shop with scrip!
After placing your first few orders, you'll be able to tailor your scrip program to fit your school's needs. You'll figure out how to set the order schedule to benefit families, and you'll have a better idea of whether to offer online ordering to families or not. The important thing to keep in mind is that there's no quota you have to meet. Scrip is fundraising on your own clock.