Decreased Band Fundraising Strikes a Chord
As school funding grows smaller, it shouldn't come as a surprise that there's not a ton of money to spend on music programs. In some schools, electives and extracurricular activities like marching bands, jazz bands, orchestras, and other music classes are cut out entirely in order to save money. This doesn't sit well with many, though, since the programs on the chopping block serve as a great creative outlet for students.
Schools do everything they can to keep music programs in their school even if that means working within a very strict budget. But as a band parent or booster club member, you know the cost of running a music program adds up quickly. There are the uniforms, the instruments, the competitions and trips, summer band camps, and song licenses— it's a lot to process and fund! That's why music programs turn to fundraising to make music a possibility for every student who wants to participate.
The other obstacle you face is that you don't have a ton of free time to raise money. Chances are, you're volunteering your time to help the program, and you don't want to bite off a huge project, so you need a good return for what you put in. How about running a fundraiser that doesn't add time to your already busy schedule, and that eliminates going door-to-door selling cookie dough, candles, and wrapping paper? What you're hearing isn't angels singing— it's just the sweet, sweet sound of scrip.
---
What is Scrip Fundraising?
Scrip is fundraising while you shop. Here's how it works: a family will buy a scrip gift card through your music group's scrip program. They'll pay the full face value, but they'll earn an immediate rebate percentage that's typically between 2% and 16% depending on the retailer. Then they use that gift card on their normal purchases. For example, if the marching band has a competition all day long, use scrip to pay for a celebratory meal at Applebee's and earn 8%! You're not spending extra money, and there's no selling involved— you're just earning for your music program!
Benefits of Scrip Fundraising
No extra time, money, or energy spent.
No selling unwanted products to your family and friends.
Earnings add up quickly— families can

earn $1,000 or more per year.

It's a great budgeting tool, and it fits with every financial situation.
We offer over 750 retailers, so you can use scrip for practically anything.
Online ordering lets families buy and use eCards whenever they want.
The funds you earn are immediately accessible.
It's habit forming— you'll want to use scrip all year long.
Another great thing about scrip? Unlike other fundraisers where all of the earnings go toward a general fund scrip lets you share earnings with families. That way, your group can decide whether to put their money toward uniform and instrument costs, competition fees, band and orchestra trips, or any other expenses.
Band Fundraising Success Story
In over 22 years of business, we've helped more than 2,500 music programs raise money with scrip fundraising. From orchestras and choirs to concert and marching bands, music programs that have fundraised with scrip have been incredibly successful.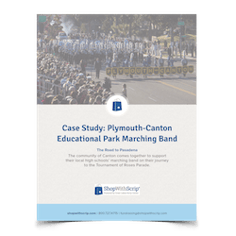 Scrip has even helped some of our bands fulfill once-in-a-lifetime dreams. Take, for instance, the Plymouth-Canton Marching Band from Canton, Michigan, who used scrip to help fundraise for their trip to the Tournament of Roses Parade in 2016. Check out this case study to see how they raised the money to get to Pasadena, California.
Want to Start Your Program?
You've now learned about scrip as a great fundraising idea for your music program. You understand the benefits of scrip, and you've seen how successful another marching band has been. Here's more good news: you can start raising money almost immediately. All you have to do is enroll your music program, invite families to join, and place your first order. Your program will earn rebates, and your families shop with scrip!
After placing your first few orders, you'll be able to tailor your scrip program to fit your music program's needs. You'll figure out how to set the order schedule to benefit families, and you'll have a better idea of whether to offer online ordering to families or not. The important thing to keep in mind is that there's no quota you have to meet and no set timeframe. Scrip is fundraising on your own clock.